Before I get into the title of the post, I wanted to say that today was a pretty good day! I was asked my one of my Young Woman's to come to her school and teach their class more on Photography. Ummmm... HELLO! Heck yeah! I LOVED it! It was a confirmation of what I (still) want to do. I had a friend watch Lincs (which I can't express enough gratitude cuz it's so hard for me to ask people to do this) and afterwards we sat and talked for a while. Loved that too. I also went to Scott Hancock's Studio as his daughter is getting married this weekend and they are having me shoot this. SOLO! Nervous? You bet! But they wanted me to sign the portraits she had decided to blow up. It was such an honour to see someone love my work so much that they'd print huge ones! We came home for a while and just hung out and then went to do a photo shoot. I was sooo nervous with the weather being the way it was, but the images turned out AMAZING! I'm so excited to start working on those. I have been shooting and editing like crazy and it's been such a blessing in so many ways.

So, I have been faithful on taking portraits of Lincs once a month since he's been born. Yes, I have asked myself time and time again what I got myself into. Oh well, can't quit now! When I took these (which was clearly almost a month ago) I was trying to find something for him to wear. I love hats and found the one below and it SAID 6 months. I figured I was safe since he was only 5 months. Oh no... little chubbers has a huge head! As you can see below, it was not a good fit. Still, it made me laugh SOOOOO hard when I saw him wear this that I couldn't resist.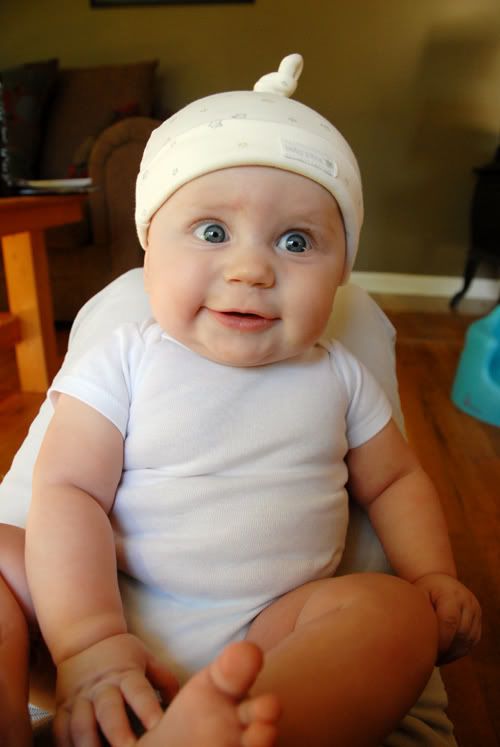 ROFL!!! Wasn't that great??

The next few are just random favs from a feeding session. Man this boy loves bananas! He also gets that from the Bennetts. This was always our favourite growing up. I don't know one sibling that didn't love bananas in our house.