You are still growing strong in my rapidly growing belly. I still have 9 weeks before I get to hold you in my arms, love you and call you mine. We have waited SO VERY long for you and I'm dying to meet you. It has been a hard trial for us both wondering why it's taken so long for you to come to us and my arms already ache to hold you. Everyone that loves your Dad and I are so very excited for your arrival and know that you are going to be just perfect.

We wonder everyday what you are going to look like and who you will become. As I write this, you are moving around inside. I LOVE feeling you move. In fact, it makes me giggle at times. You are so active and to me it is such a blessing because it means you are alive.

Although I am scared to raise you in today's world, there are so many things I can't wait to teach you. I'm almost certain that your Dad will try to have you out fishing and camping the first weekend out from the hospital-these are his two passions in life. One of the things I will teach you is the Gospel. It has been the ONE thing that has brought the most happiness and peace in my life. I can't wait to read, sing and cuddle with you. I hope you'll forgive me for all the photo shoots I'm going to make you endure, but I just won't be able to get enough of your cuteness. I love photos, what more can I say?

We have chosen the name Lincoln Base Ward to be your name. I have always loved the name Lincoln. I have this very dear friend that waited so long to have a baby too. He finally came and they named him Lincoln. He passed away a few days after he was born and I cried and cried for days for my dear friend and her husband. I wanted to name my son Lincoln even more after that. I sometimes wonder if you knew him in Heaven. The name Base comes from not only your Dad's middle name, but also Grampa Ward's name. You'll love him. He is SOOOOOO excited for you. He already has you a horse-not joking... Be prepared because he will smother you with loves and kisses.

Today I went to see a friend of mine who took some beautiful portraits of you and me together. Although I'm not loving all the weight I'm putting on, it's important to me to document all our time together. One thing I have learned from photography is that it is SO PRICELESS!! You'll find this even more true when someone you loves passes away. Here is one of the portraits Scott Hancock took of us today.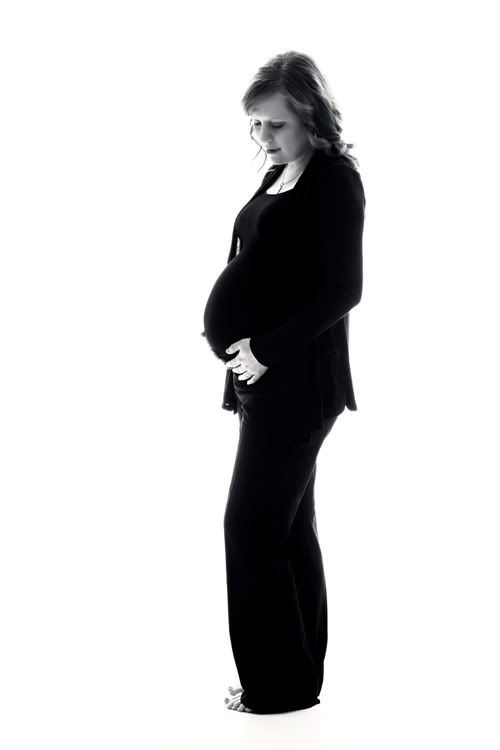 I hope you can feel the love and sweet tender feelings I already have for you by the expression captured on my face. I have so many more things I want to tell you, but it's time for bed (For BOTH of us!!).I love you so much and can't wait to finally hold you in my arms!
Luv,
Mum