Last week I had Jory take some pics of me and my boy. I'm almost always behind the camera and for the sake of my child, that needs to change. When I look back at pics growing up, there are hardly any pics of my mom-esp just me and her. This kind of bothers me because I wish we had more. One day when she's gone, it will be the one thing I wish I had more of. So I've decided that I am going to make sure I change this in my own life. There's always lots of just my baby, but I want him to know when he grows up that I loved him sooo much and that he was held-A LOT! Almost no one believes a painting, but everyone believes a photograph! Besides that, I had actually done my hair for the day, so it was the perfect time. We went out and had Jory take some pics of us-I was quite impressed with Jory's picture taking. Man... I just can't get enough of my boy. He is so perfect for me and the most beautiful baby in the world in my eyes!
I woke up sick this morning. I was so nauseous and my whole body ached. I had a fever of 100.8% and it even hurt to walk. I went out with my sister and niece today cuz I thought I was starting to feel better, but that was a nice little joke! I came home from Costco and we both laid in bed the rest of the afternoon and cuddled. The bummer of being sick with a little baby is they just don't understand what is going on and want to play and be held ALL THE TIME! For some reason, my baby wants to be entertained 24/7.
My baby has the most BEAUTIFUL eyes ever! I love how they are so lit up in this pic. He has been REALLY alert since he was born. Always bright eyed and looking around.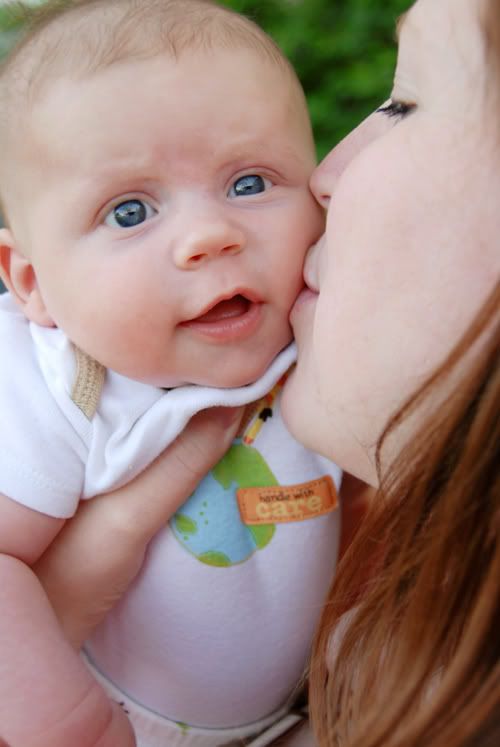 Look at that happy little face! We just can't stop kissing those sweet cheeks!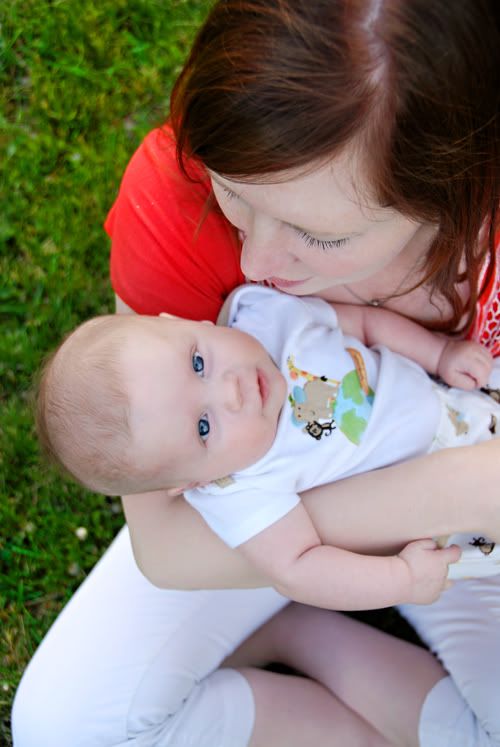 Halle is so curious of Lincs. Every time we go in the yard with him, she always wants to check him out, sniff him-etc.

He is going to grow up to be one handsome dude! Love being a mom...