Today we had Lincoln blessed. What a PERFECT day! I was so happy when Jory's family came down so that they could join us. Tammy and Dayle made some AMAZING food. Pulled pork, pasta salad and fruit salad. We made some cheesy potatoes and those were DELICIOUS!! All the food everyone made and brought was amazing. The other amazing thing was that Tammy had saved Jory's blessing outfit and brought that down for Lincoln to wear. More then anything, I wanted that outfit to fit him! We tried it on a month ago up in Almo and it was pretty snug on my chubby boy so I was REALLY worried. We tried it on last night and it FIT!! Barely, but at least it fit.

My dad blessed Lincoln and it meant the world that he could do that. Jory's dad, Kade, Bishop Shelley, Bro. Black, Johnny, Scott all stood in Linc's circle. My dad gave him a BEAUTIFUL blessing. It said how he would be safe, grow up strong and honour/hold the priesthood. It also said how he would be a great blessing in our lives. Also that he would feast upon the words of the scriptures, he was blessed with health, protection, a keen intellect and seek after Christ.

I actually bore my testimony for the first time in... YEARS!!! Of course I cried. But how could I not? He is MY little miracle-one that I waited SO long for. But it did make my testimony grow of our Saviour's love for his children. I KNOW he DOES take care of them and somehow-it always works out in the end.

When we got home I wanted to take some pics in Linc's blessing outfit with all the men in the circle and as I went to change Linc's diaper, I noticed he had BLOWN OUT!! He had poop ALL up his back! Ohhh... I was devastated!! So we put on a clean outfit and took pics of all the men-which most of them had changed into street clothes by then. So... tomorrow, we will have to set up a photo shoot of him in his little blessing outfit
.

Here's the men minus the Bishop, Bro.Black and Cort who got hit by a car the night before and wanted to come but couldn't.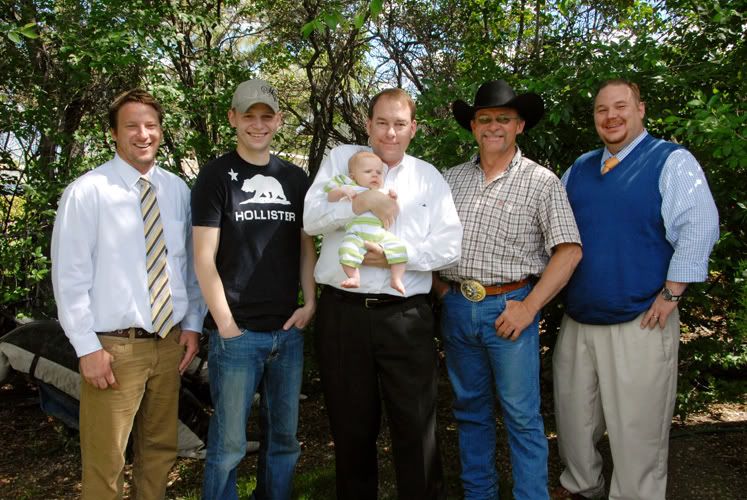 A couple of weirdos... ;) I thought this was hilarious so that's why I added it. HA HA HA HA....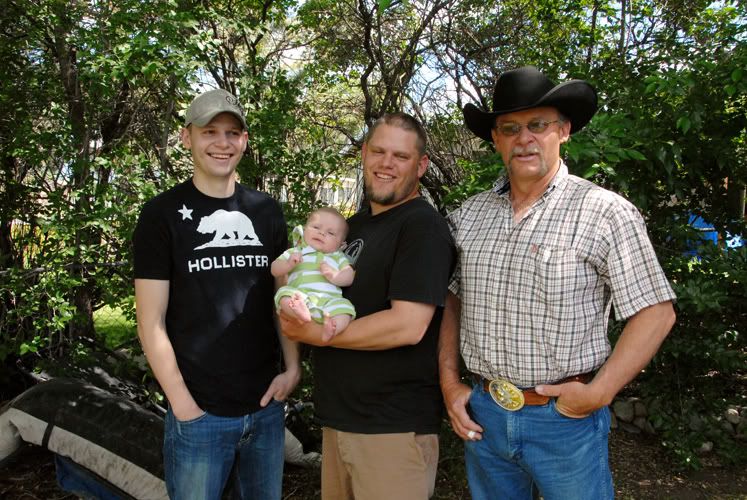 Grandpa Base and his boy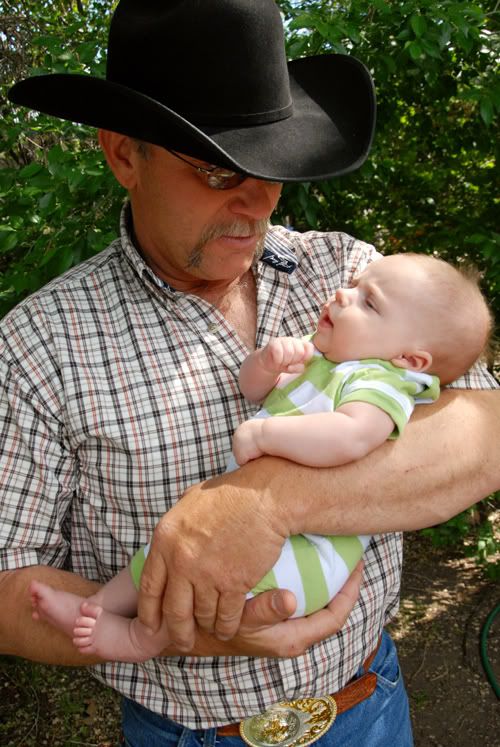 We had so many friends and family at the BBQ. Of course I hardly took pics to document cuz it was SOOO dang hot and sunny out. That and I just wanted to sit and visit with everyone. It was so nice though. We have been so blessed with so much love and support from amazing family and friends. We really couldn't ask for anything more! So if you are one of those amazing friends or family members that were there, we thank you so much for sharing in our special day today!

Like I said, I didn't get pics of everything or everyone (like Jory's family!!!) like I had wanted to, but here are some of a (just a few) of my greatest girl friends...

Tammy, Me, Jeanie
Gubs and I with Lil Lincs
Me and Lincs with my AMAZING parents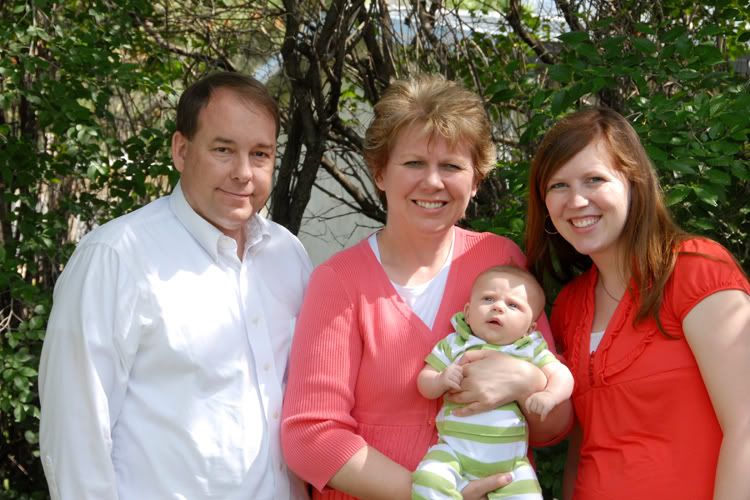 My SWEET boy and I! Oh how I love, LoVe LOVE him