I am so happy that I had the chance to go to the Sunday afternoon session of Conference with Alison and Colleen. There was such and amazing feeling being in that room with all those people. The quiet, yet profound feeling letting me know I was exactly where I needed to be and that this was the true Gospel I have always loved. The talks were amazing as always and listening to our new Prophet was wonderful. I was very touch when he begged us all to, "Please pray for me." How humble and sweet he is. I was also a little chocked up when I had to tell myself yet again, that Pres. Hinckley is no longer with us. (Really... it hasn't hit me yet.) But it was a wonderful experience for me and I am so VERY grateful I had the chance to go.
After Conference, we wanted to go to Temple Square yet again, to take some pictures during the day. As always, never to let us down, there were tons of protesters. This has always bothered me, but figured there was nothing we could do about it. That's where I am wrong. As we walked along the street of Temple Square, each side was lined with young adults singing hymns. Their voices were so strong and powerful. This only strengthened my testimony more while feeling the scared things I did inside. Walking through this crowd was amazing and I found myself joining in.To these people... I am deeply grateful for you and what you did that day and for giving me the wonderful experience I will never forget!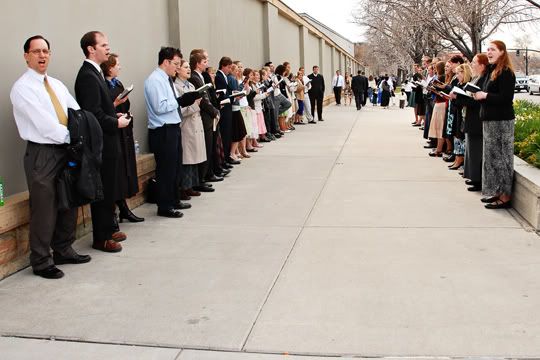 I was so excited when one of my dearest friends Jeanie text me before we left saying that she too was able to go to conference during our same session!! This was such a big deal to her since this was one of the things she had always wanted to do before she dies. We met up afterwards so that I could get a picture with two of my best friends-both from different countries! LOL... Love you girls to death!
I LOVE the Gospel and the peace that it brings to my life! I love that I could attend this session and all the wonderful blessings in my life as a result of that. I love all the BEAUTIFUL flowers on Temple Square too! May sound dumb, but really... you can tell they go to a lot of hard work to make the grounds so beautiful for us!