Not too much to blog about really. Last week I had my wisdom teeth pulled. I didn't get put under or have Nitrous-my choice. Those needles were amazingly INTENSE though. WOW... Seriously, I thought they were going to come through my cheeks! That and I have NEVER in my life felt SO much pressure. Honestly I thought I was going to crawl out of my skin. However, I have an AMAZING Oral Surgeon and it only took him 25mins to get the job done. When everything wore off and I wasn't numb at all, there was NO pain. My jaw has been really tender lately and the first few days of eating took so long that I'd just get bored and give up. Things are healing very nicely though and there's been no swelling at all. Dr. Tate Vieweg is the man for the job is all I can say!

That same night after he took my teeth out, Jory and I went up to the Oquirrh Mountain LDS Temple open house. We went with Cort and Ash and their two kids and stopped off at Ikea for dinner first (man, we LOVE that place!) The temple was amazing though. I LOVED the spirit I felt while I was there. It was so powerful and I just couldn't stop smiling inside. Clearly, it took too much effort to smile on the outside! ;) What a beautiful temple though. If you have the chance to go, you REALLY need to go. There is a lot of tile in that temple and I LOVE IT! The chandelier is exquisite! When going to something like this, my testimony is only strengthened of the Gospel because of the strong, quiet power felt. It feels so good to know who I am and what I want out of life. I may not have it all, but I'm working towards these things.

One week tonight I will be done with my two year degree. I am so proud of myself. I am not a bragger by any means, but really... I worked HARD!!! I sacrificed SO much for this too. I am for sure planning on going for a BFA but am taking some time off to get some things in life worked out first but I can't wait to get back in there. There is such a great feeling of self worth and accomplishment in doing what I'm working towards. I still want to teach Alternative Photography in college and plan on doing some fun summer projects in this department. Anyone that wants to join in, give me a call.

Yesterday I drove up to see my two cousins Kenz and Shand. Wow... these girls are amazing and I haven't seen Shand in so long! I miss them (and Bren too!!!) I adore these girls and wish I could hang out with them more. It was so good to see you girls! Shand took a few pics that hopefully I can have and post! Well, I guess this might just be my monthly post!

Ok, so if you have a weak stomach or are easily offended-DON'T SCROLL DOWN!!
I figured my sister Geena and cousin Shanda would appreciate these. ;)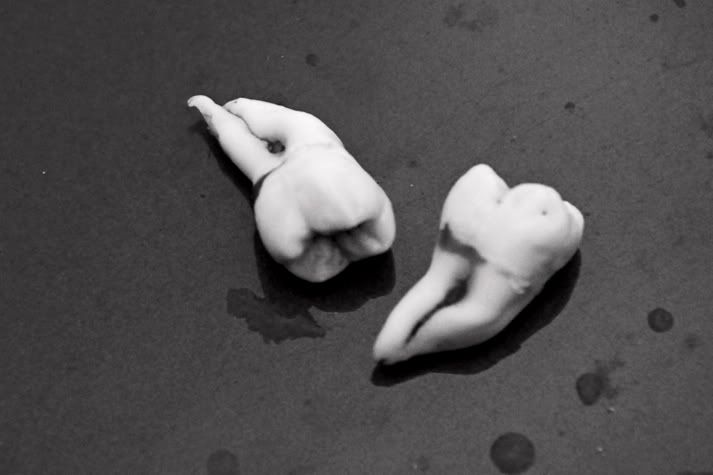 Go Dr. Tate! Didn't even break anything off. That takes talent!